Winding my way upto the hills of Central Vietnam has been on my "to do" list for a long time and thanks to COVID I have finally got around to doing it. My motorbike and I travelled on the overnight train from Saigon to Danang which I thought might be novelty as I haven't been on an overnight train in Vietnam for a long time. It was mostly ok but the standards haven't improved over the years. Cleanliness maybe next to Godliness but God must have forsaken the rail system. My bike was crated up and it took a while to find it as no one at the office titled "Dispatching & Receiving Motorcycles and Luggage" had a clue where it was. A kindly Xe Om (moto taxi) driver found it for me so once Big Fella was uncaged we headed south to An Bang Beach, Hoi An.
After a few days R&R I loaded up and headed off to Prao located near the Vietnamese/Laos border but the virus put paid to the idea of staying at Bho Hoong Bungalows as they were closed to visitors so after a simple lunch, I continued on to Khe Sanh a further 210 kms distant.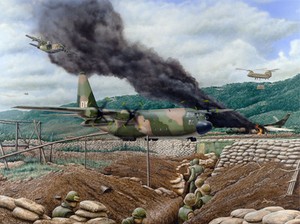 President Johnson was "determined that Khe Sanh [would not] be an 'American Dien Bien Phu'". He subsequently ordered the US military to hold Khe Sanh at all costs. As a result, "B-52
Arc Light strikes
originating in Guam, Okinawa, and Thailand bombed the jungles surrounding Khe Sanh into stubble fields" and Khe Sanh became the major news headline coming out of Vietnam in late March 1968. - Wikipedia
Approximately 6000 US, South Vietnamese and Montagnard troops were attacked by the North Vietnamese People's Army (NVA) over the course of 77 days.
However, my time at the combat base was vastly different. About 15 or so local tourists arrived and everyone of them wanted to take a photo with me, either individually or as part of a group picture, with every camera available.
From Khe Sanh I followed the Ho Chi Minh Road West as it zig and zagged through stunning scenery, along the banks of rivers, up and over passes, forever twisting and turning, rising up and dropping away again. Past the villages of ethnic minority groups of the Bru Van Kieu and the rare small towns. With about 2 hours riding to go I stopped for a late lunch in the magnificent valley of Truong Son. I pulled in to a place and went straight to the fridge to get some water to refill my Camelback. As they didn't have any large bottles cold, I grabbed two 500ml bottles and poured them in. The woman working offered me some ice which I added to my water relishing the idea of some cold water whilst on the road. The temperature was about around 40C and kitted out in moto gear gets incredibly hot so the ice was a bonus. I also grabbed some instant noodles for lunch but she turfed them aside and made me some real noodles which were delicious. After lunch I took some photos of the valley and reluctantly continued north. However, the water wasn't tasting quite right but I put that down to possibly the ice adding an unpleasant flavour.
With a total of 230 kms for the day to complete the heat had made me weary but the joy of being alone on a motorbike, riding through such an amazing landscape was well worth the effort. I missed a few gear changes during the course of the afternoon and when I did make my way down to the outskirts of Phong Nha, for the life of me I couldn't remember if i was heading to Phong Nha Homestay or Farmstay. When I managed to pick up the network signal again i stopped to look at the website for the Farmstay which I knew to be run by Ben from Aus and his wife Bich but the home page had a French and a Russian flag on it. This confused the living daylights out of me as I was reasonably sure I was heading to the Farmstay but then I saw a sign for the Homestay and headed in that direction. But my gut was telling me that I shouldn't be going to the Homestay so I sent Ben a message to confirm and it was the Farmstay I was heading for. I arrived just on dusk; hot, weary and in need of 3 litres of water and a beer and was made very welcome by Bich and Ben.
It was the next day sorting out my gear when I realised what had happened. Instead of putting two 500ml bottles of water in my Camelback I had put in a litre of rice wine. Luckily there was still probably 300mls of water in the bladder when I topped it up and the ice would also have helped dilute it but it does explain why my riding skills were worse than usual and why I couldn't remember where I was meant to be staying.
Top Tip: Avoid indulging in the local firewater when a) dehydrated, b) not sure where you are going and c) whilst piloting a motorcycle in remote regions on a day when the ambient temperature is ferocious.
If the temperature was a few degrees cooler, Phong Nha would have been paradise. Don't get me wrong, the place is beyond imagination. Mountains jagged and jungle clad, rice fields that are an astonishing green and the region is home to an extensive network of caves capped off by Son Doong the world's largest known cave. Suspension bridges slung across lazy rivers, hamlets nestled in the lee of the mountains and sunsets that sizzle in to the dark.
Son Doong Cave may be the BIG ONE and it is on my list of things to do but the cost is the hard part. Somewhere in the vicinity of $3000 USD to visit and takes between 4-7 days with a team of porters and guides. But as a once in a lifetime opportunity it must be amazing to be in a cave with its own weather patterns, interior jungles and clouds inside the cave. I ventured to the "not too shabby" Paradise Cave which, though the climb up the steps to the entrance was energy sapping just from the humidity, once at the cave mouth the air flowing out was as good as air conditioning. I didn't actually hold much hope that the cave would impress me so I was a bloody happy to chap to have the place virtually to myself and I found it fascinating.
After a few days in the Phong Nha National park area I had the dilemma of determining which way to go back to Hoi An and decided that the route was so good that I would ride back the way I came but instead of going through to Prao I would turn off at A Luoi and ride to the former Imperial City of Hue.
Like most of Central Vietnam when it's hot it's really bloody hot but when winter comes the air is dense and cold and the chill creeps in to every part of your being. Luckily it was still scorching hot when I got to Hue which was no surprise at all. Coming down from A Luoi I was trying to stay ahead of two local buses that were being flogged by their respective drivers. We ended up racing each other which is not a smart thing to do but sometimes a bloke's gotta do do what he's gotta do. On the uphills sections I could blow them in to the weeds but on the downhills they knew every inch of the road and maximised their local knowledge. After about 30 minutes of this and realising that it was sheer madness I pulled over and let them disappear in to the heat haze and dust.
It was good to be wandering around Hue on my own stopping to take photos as I pleased but that all nearly came unstuck when I realised that my motorbike keys were not in my pocket and I had a feeling they may be sticking out of the top box, ripe for the pinching. I arrived back to where my bike was parked and sure enough the keys were gone. By this stage the parking area had filled up and tens of people had parked their bikes near mine and as the parking guy was helping move bikes I asked him if he saw my keys. Initially he ignored me but i just kept at him. After about five minutes of hassling he reached in to his pocket and pulled them out and handed them to me. Just happy that he was honest enough to give them back I tipped him and was on my way again but for a while I was anxious.
From the time I left Hoi An to the time I returned I covered just over 1000 kms. I had a nail go in to the tyre in Khe Sanh but it didn't puncture and was easily removed by a gentleman that just happened to have a pair of pliers handy and flat tyre once back in An Bang Beach, right across the road from a repair shop.
I saw so few people on or along the road between Khe Sanh and Phong Nha that it had the feeling of being very far from civilisation and travelling on your own makes you realise that you are vulnerable if things go pear shaped so I was lucky and got away with this one.